The 6th Conference of ALCE, Epilepsy Association of the Valencian Community will take place on Saturday February 10th, at the Escola Valenciana d'Estudis de la Salut (EVES). This day will be dedicated to the Training Plan of EVES.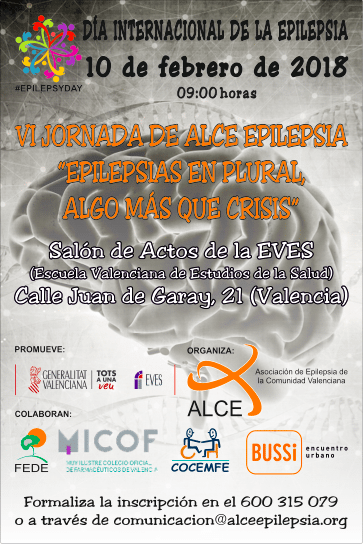 Under the title EPILEPSIAS IN PLURAL, IS MORE THAN SEIZURES, professionals working in the fields of neurology, genetics and neuropsychology will discuss some very important issues in the diagnosis and treatment of different epilepsy syndromes from the health and social issues points of view.
The conference is aimed at health personnel who care for people with epilepsy (specialists in genetics, neurology, neuropediatrics, neurosurgery, emergency medicine, primary care and nursing), students of health sciences, psychology specialists and students and people with epilepsy and their relatives.
The objectives of this Conference are to:
Improve the diagnosis of epilepsy
Learn about new pharmacotherapies and advances in surgery that can promote better seizure control
Address the special characteristics of epilepsy in women and children
Address solutions for the social problems that affect people with epilepsy
Registration is free and the number of places is limited: those interested just need to contact us by email before the 7th of February with the following information: name, surnames, telephone, email, professional level and studies to comunicacion@alceepilepsia.org
Attendees who would like to have the EVES certificate will need to  fill out an application form at the conference so that it can be mailed to them afterwards.