Tony Coelho, of Portuguese ancestry, is a former United States Democrat congressman and the primary author and sponsor of the Americans with Disabilities Act.
Born in 1942, his first career choice was the priesthood. However, a compulsory medical exam showed that he had epilepsy, caused by an accident on his parents' farm when he was a teenager. Because of canon law, he was unable to become a priest. Once the diagnosis was reported to the state, Coelho lost both his driver's licence and his health insurance.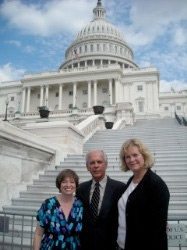 Still wanting a career of service, he then looked to politics. In 1978 he was elected to the US House of Representatives and served six terms. He retired from politics in May 1989.
Coelho serves as Chairman of the America Association of People with Disabilities, the country's largest cross-disability membership organization. He was the original author of the Americans with Disabilities Act, signed into law by President George HW Bush.
President Bill Clinton appointed Tony Coelho to serve as Chairman of the President's Committee on Employment of People with Disabilities, a position he held from 1994 to 2001. He also served as Vice Chair of the National Task Force on Employment of Adults with Disabilities. In 1998, he was appointed United States Commissioner General at the World Expo in Portugal.
He participates annually at New York Law School for its Tony Coelho Lecture in Disability Employment Law & Policy. He also serves on the National Board of Directors of Epilepsy Foundation of America.