Sandra is now 41 years old. There is a family history of epilepsy: her uncle also had the disease but the family didn't see this as normal. She often saw her grandmother and mother crying, because her uncle was financially and physically dependent.
When she was 17 years old, she had an episode that would mark her life forever. The only thing she remembers is waking up and hearing her parents crying on their way to the hospital. After a battery of tests and neurologist appointments, the diagnosis came: Juvenile Myoclonic Epilepsy.  She thought about her uncle and was afraid, she didn't want to have the same experiences.
While her mother began overprotecting her, Sandra decided epilepsy was not going to dictate her life. A year later she became pregnant. She was afraid and she stopped taking medication. She miscarried.
Living A Normal Life With Epilepsy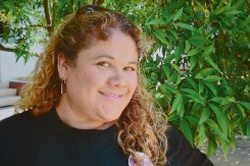 After school, Sandra married and, a few years later, Israel was born. This time she sought professional help and had a health baby. Now she has a husband and son: proof that she could have a normal life.
Seven years later, she had a baby girl. Born at 30 weeks, Martina was diagnosed with Pierre Robin syndrome, arthrogryposis, and with muscular and osseous atrophy in her arms. She spent the first 11 months in hospital and had 30 life threatening episodes. Today, Martina is a beautiful 12 year old.
But, life had another surprise: at 15 years Israel fell down.  Sandra knew straight away that he too had epilepsy. Now, all her talk of independent living seemed rubbish. She just wanted to hold him close and not let him go. She realized why her parents had acted as they had done and, even now, she has to resist being overprotective of her son. Today, Israel is employed and has plans for his future. Sandra is now studying First Aid, is working and feels strong. 'What does not kill you, make you stronger,' she says.
Me llamo Sandra Valdebenito y tengo 41 años. Desde pequeña tuve relación con la epilepsia, pues mi tío tiene esta condición. Sin embargo, este tema estaba lejos de ser visto como algo normal en mi familia: todos lo tildaban de "enfermo" y creían que él no era capaz de valerse por sí mismo.
uchas veces vi llorar de preocupación a mi abuela y a mi madre, ya que mi tío dependía en un 100% de ellas, tanto física comoeconómicamente. Nunca pensé que mi madre volvería a pasar por esa angustia, pero que, esta vez, sería yo la causa de sus preocupaciones.
Mi vida quedó marcada para siempre cuando tenía 17 años. Separada, por una caída, en un antes y un después. No recuerdo mucho, pero cuando desperté, escuché el llanto de mis padres camino a la clínica.
Luego de exámenes y citas con el neurólogo, tuvimos un diagnóstico: Epilepsia Mioclónica Juvenil. Yo sólo pensaba en mi tío y en el miedo que me daba pasar por lo mismo que él.
Apenas mi mamá comenzó a sobreprotegerme, me propuse demostrarles a todos que yo seguía siendo la misma y que esta condición no sería un impedimento para vivir la vida que yo quisiera.
El primer obstáculo en este camino vendría un año más tarde cuando quedé embarazada y, por miedo, hice lo único que no hay que hacer: dejar de tomar los medicamentos. A los cuatro meses, perdí a mi bebé.
Al salir del colegio, me casé y, unos años después, llegó Israel, mi hijo mayor. Esta vez busqué ayuda profesional y tomé todas las medidas para tener un buen embarazo. Estaba feliz, tenía conmigo a mis dos amores y le había probado a mi familia que podía ser una mujer normal.
Siete años más tarde, llegó Martina, mi hija menor, quien nació con sólo 30 semanas de gestación, Síndrome de Pierre Robin y artrogriposis; además de atrofia muscular y ósea en sus extremidades superiores.
Pasamos 11 meses con ella en el hospital y estuvo 13 veces con riesgo de vida. Orgullosa, puedo contarles que, hoy, mi Martina tiene 12 años y es una hermosa señorita.
Sin embargo, la vida me tenía preparada otra sorpresa: cuando Israel cumplió 15 años, sufrió una caída. Supe de inmediato que era epilepsia. Sentí que todo mi discurso de independencia no servía. Lo único que quería hacer era tomar a mi hijo y no soltarlo más.
El temor a que le suceda algo mientras no está cerca es constante. Eso me hace entender por qué me sobreprotegieron. Hasta el día de hoy, debo luchar para no ejercer una sobreprotección excesiva con él. Sin darme cuenta, veo reflejadas las conductas que mi madre y mi abuela tuvieron, primero con mi tío, y después, conmigo.
Hoy, Israel trabaja y tiene planes para su futuro. Yo, por mi parte, sigo perfeccionándome: estoy estudiando Primeros Auxilios, trabajo y me siento fortalecida. Finalmente, "lo que no te mata, te hace más fuerte".