In 2014 Rob Wierzbicki was the Australian recipient of The Outstanding Person with Epilepsy Award honouring Rob's volunteer service to the Epilepsy Foundation of Victoria, spanning some 16 years.
Rob was introduced to the Epilepsy Foundation Victoria when he was diagnosed with epilepsy at the age of 22. He attended seminars and obtained as much information as he could about epilepsy so he could learn, as he says, "about this medical condition that was to affect me in some way for the rest of my life".
In 1997, Rob began his involvement with the young adults social group, then called the Superfits and now known as the AWEsome (Adults with Epilepsy) group.  The group aims to give young people over 18 and adults with epilepsy the confidence to be socially active while living with epilepsy – to have fun, support each other, share experiences and to participate in new and challenging activities.
A Treasured Volunteers at The Epilepsy Foundation of Victoria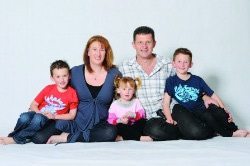 Rob's epilepsy is now under control, but since his first contact with the Epilepsy Foundation of Victoria in 1995, he has been one of the Foundation's treasured volunteers, first as a trained community speaker, a committee member of the Superfits group and a regular camp volunteer.
In 2003 Rob and his wife Cheryl were asked to become the volunteer co-ordinators of the group, which they willingly took on, at the same time as having two very small children!  Rob and Cheryl now have three children – Riley aged 8, Jordon aged 7 and Tahlia aged 5. Rob successfully juggles full time work with National Australia Bank, where he has been employed for the past 25 years with a full family life and his service to the Foundation.
Rob sees his volunteer role as a way of giving back and making a difference to people who live with epilepsy.
"I still love being involved with the group. Even though I have three young kids to keep me busy, I get so many rewards from the AWEsome activities and camps".
Rob continues to be on the leadership committee with the AWEsome group, and values every opportunity to see so many of the participants flourish and grow in confidence.
Rob received his award from IBE President Athansios Covanis during the opening ceremony of the 10th AOEC, Singapore in the presence of several Australian colleagues, including Denise Chapman, Chair, Western Pacific Region.