A caring short film on Epilepsy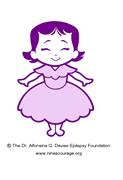 Nina, The Little Bulldozer is a short film that is part documentary, part animation. Through the words of Nadia and Thomas Davies (Nina's parents) the little girl comes to life and symbolizes the spirit of overcoming.
This unique short film was created by a world class group of extremely talented individuals from Animation and Character Design Studios in Spain, France, Japan, and the US. The music was provided by a highly talented and esteemed musician from the San Francisco Bay area. Their individual names are listed in the credits section.
In four and one-half minutes you will see epilepsy in a new light. This one of a kind short film simulates a seizure in an animated, artistic and compassionate manner.  It is suitable for people of all ages. It portrays the courage and hope of a little girl that in spite of her illness never gives up and keeps going. She jumps over all obstacles in her way to reach her goal. This wonderful piece of art offers hope for all afflicted.
All artists worked gratuitously to bring Nina's story to life.  It was done in the hope that this devastating neurological disease might be better understood and accepted by the public as have so many other terrible and terminal ailments.
All of the materials are copyrighted and wholly owned by the Dr. Alfonsina Q. Davies Epilepsy Foundation. (www.ninascourage.org)