Helia is 59 years old and has had absence epilepsy since she was 15 months old. Her classmates never made fun of her and she loved school. Her ambition was to study dentistry, but in the end, she joined the Chilean Naval Army as a telegraph operator, proudly graduating from training with honors, despite her epilepsy. But not all was perfect: a few months later, Helia had a major seizure, which resulted in discharge from the Navy. It was the first time that she was angry about her epilepsy. She asked herself "Why me?"
Living With Epilepsy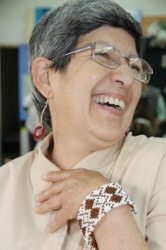 She had to begin building her life from zero and decided to study for a secretarial degree. A few months later, she met her future husband and they had three children. She felt fulfilled. But her happiness was short-lived. Her husband deserted her and she was left with sole responsibility for her children and home. Then, at the age of 35 years, she developed a tremble in her voice and hands and her condition deteriorated to the point of not being able to talk, eat or take a shower unaided. She became dependent on others and experienced depression. After years of rehabilitation, she learned to take care of herself and decided that epilepsy was not so bad – there were worse things in life. How right she was: a cerebral aneurysm meant urgent surgery and pulmonary bleeding after the operation left her in a coma for 8 days. But she survived.
'If people ask me where I find strength to overcome everything that has happened, I tell them that love is the answer.  Love of my sons and grandchildren, love of all the wonderful – and not so wonderful – things in my life', says Helia.  'My experiences have helped me realise that I was born a fighter and I will die fighting the battle', she adds.
En Español
Soy Helia Valenzuela, tengo 59 años y convivo con la epilepsia desde que tenía un año y tres meses. Crecí con esta condición, por lo que se transformó en mi primera amiga y parte de mi vida cotidiana.
La epilepsia era tan normal para mí y mi entorno, que mis compañeros de curso sabían con exactitud lo que me ocurría cada cierto tiempo. Les decían "la foto" a mis crisis de ausencia -ya que me quedaba estática- pero nunca se burlaron de mí por esto. Mi época escolar fue grandiosa. Tenía sueños y proyecciones y, hasta ese momento, la epilepsia nunca había sido un impedimento para cumplir mis metas.
Cuando salí del colegio, quise estudiar odontología. Sin embargo, terminé entrando a la Armada de Chile como operadora de telégrafo, donde me gradué con distinción máxima. Estaba orgullosa, había sido capaz de superarme a mí misma a pesar de la epilepsia. Pero no todo era perfecto: unos meses más tarde, debido a una fuerte crisis, fui dada de baja de la Institución. Esa fue la primera vez que lamenté tener epilepsia y que me pregunté: "¿POR QUÉ A MÍ?".
Tuve que empezar desde cero a construir mi futuro. Esta vez no fue tan fácil: tenía miedo e incertidumbre. Sin embargo, decidí seguir adelante y estudiar secretariado, siempre acompañada por mis crisis de ausencia.
Unos meses más tarde, conocí al que sería mi esposo: salimos durante un año, nos casamos y llegaron mis tres hijos. Me sentía plena. Los niños fueron creciendo y la epilepsia fue aceptada por ellos como la compañera de su madre.
Luego de un tiempo, mi esposo me dejó y tuve que hacerme cargo de mis hijos. Pero eso no fue todo: cuando tenía 35 años, comenzó un temblor esencial en mi voz y en mis manos, condición que se fue acentuando hasta un punto en el que no podía hablar, comer o bañarme por mí misma. Comencé a depender de todos. Tenía rabia y pena, pero no podía expresarlo. ¿Se imaginan esa situación?
Luego de años de rehabilitación, pude volver a valerme por mí misma. La epilepsia ya no era nada, había pasado por cosas peores. Sin embargo, la vida me tenía preparada otra prueba: un aneurisma cerebral que había que extirpar urgentemente. Gracias a Dios, la operación fue un éxito, pero sufrí una hemorragia pulmonar que me tuvo en coma durante 8 días.
Cuando desperté, sentí que Dios me había dado una nueva oportunidad. Pensaba que, si había superado tantos obstáculos en mi vida, ahora era invencible. Una súper mujer, una heroína encubierta.
Creo que si me preguntaran de dónde saqué las fuerzas para superar tantos obstáculos, les diría que fue del amor de mis nietos y mis hijos; de las cosas maravillosas y no tan maravillosas que he observado a lo largo de mi vida y, lo más importante, de mi interior. Todo lo vivido me sirvió para darme cuenda de que nací fuerte y moriré dando la batalla.