Finnish five-year-old Emilia Salminen underwent extensive frontal-lobe surgery in the spring of 2014.Emilia's operation was performed at hospital in Helsinki. She was in surgery for eight hours.
Emilia's epileptic seizures were caused by a congenital developmental disorder of the frontal lobe. When the condition was at its worst, she suffered dozens of episodes a day. Medications did not seem to help. After exacting examinations, epilepsy surgery was decided upon. Although Emilia no longer suffers from seizures, she continues to take epilepsy medication and her progress is carefully monitored.
Results After Surgery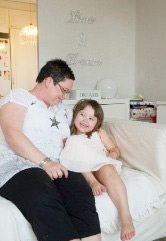 The results of the operation have already surprised her parents and grandparents. Her epileptic seizures have stopped, and she has become more outgoing and self-confident. Her frequent nightmares are gone, and her daily life is easier.
Emilia now goes to a specialised day care facility, and her mother can rest assured that she is receiving the best possible care and support from the expert, friendly personnel.  Emilia has attended a swimming school. The aim is of course to learn how to swim on her own.  Furthermore Emilia has started skating and finds that an interesting hobby.
Emilia´s mother Tiina and Emilia have also taken part in an adaptation family training course organised by Finnish Epilepsy Association. The best things about the course were peer support and learning how to approach and cope with epilepsy issues. Tiina emphasizes the importance of her own attitude. With positive attitude Emilia´s family is looking at the future of their lovely child.