This year, Epilepsy Week took place on the 9th to 15th February, 2018. The goal of this celebration in Sierra Leone was to create a platform for people with epilepsy, their partners and service providers to share their experiences and stories with others thereby to build a stronger epilepsy community.
For Epilepsy Association of Sierra Leone (EASL), the theme of this year's celebration – 'Epilepsy is more than a Seizure' – is apt as we address more than the medical condition of our clients. Rather, we seek to address also the social and emotional aspects which often leads to isolation, exclusion and marginalization which in turn leads to poverty and poor life possibilities for persons living with epilepsy in Sierra Leone.
The celebrations of the International Epilepsy Week took the form of a national epilepsy awareness raising campaign conducted throughout the 3 main hubs that forms EASL's intervention areas in Sierra Leone.
This report covers activities carried out in these 3 main hubs during the period of celebration.
This year, EASL is implementing a new 3 years project entitled – 'Improving Access to Treatment and Support for People with Epilepsy in Sierra Leone' – funded by Pro-Victimis.
This new project aim to directly transform the health status of 6,000 people with epilepsy in Sierra Leone through the promotion and facilitation of access to treatment, and enabling those affected to increase their participation in society.
Report on activities conducted in the Freetown Hub (Western Urban and Rural Districts)
On the 9th February 45 minutes discussions were held on the Sierra Leone Broadcasting Services television as well as on Radio Democracy (FM 98.1), Culture Radio (FM???), Believers Broadcasting Network (FM 93.0), and Tumac Radio (FM 89.9). Interviewees for these broadcasts included the EASL Director, EASL Technical Advisor, ESW Freetown, and Admin and Finance Officer. The main message for these broadcasts were (1) Epilepsy is not demonic, not witchcraft and not contagious. (2) Epilepsy is a medical condition that can be controlled by anti-epileptic medication. (3) Refer/direct patients to the nearest clinics.
On the 11th an awareness raising talk on Epilepsy at the Roman Catholic Church in Waterloo, Western Area Rural given by ESW Martin Sesay using the bible verse Luke 9:39 where Jesus heals a boy with epilepsy. Also on Friday 16th February, a sensitization talk was also given at the Ahmadiyya Muslim Jammat –Waterloo. A total of 152 persons including women and children attended both faith-based activities.
On (date) a town hall meeting to raise awareness on epilepsy was held at the Nursing Home in Freetown with an attendance of 58 persons from all works of life and 5 speakers in attendance.
Report on activities conducted in the Bo Hub
As in the case of the Freetown Hub, 45 minutes radio discussions were held on SLBC Bo covering the east and south of Sierra Leone and KISS 104 FM to mark International Epilepsy Day which is 12th March 2018.


Awareness raising on epilepsy took place at 2 churches and 1 mosque. The number of people in attendance at the Power Temple Church and the Livingstone Church both in Bo totaled 78 with 23 men, 42 women and 13 children. The mosque attendance at the Sierra Leone Muslim Brotherhood mosque in Bo was 50 (15 men and 35 women).
A town hall meeting to raise awareness on epilepsy was held in Bo at the Methodist Resource Centre with an attendance of 58 persons in the audience as well as 5 speakers.
Report on activities conducted in the Koinadugu Hub
In Koinadugu, activities conducted reflected what was done in the Freetown and Bo Hubs.
3 radio discussions were aired on SLBC Makeni, (FM 88.0), Amzas Radio (FM 96.9), and Buntimani Radio (FM93) in Kabala
77 persons formed the audience at the Town Hall meeting held at the Women of Hope Hall in Makeni in celebration of the International Epilepsy Day
A Role-play was done by pupils of the Practicing School Epilepsy School Health Club
Profile of a participant in celebration week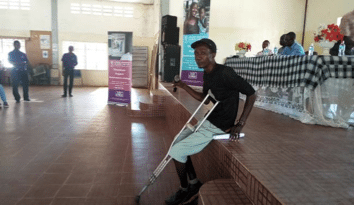 Bangali (25 years) said he first experienced seizure when he went to visit his girlfriend. It was not an easy episode but by the end my girlfriend took me home to my parents. When we reached home to my parents, they told me that I have been attacked by demon. I denied them and started to look out for medication until I came across the Epilepsy Clinic at Bo Government hospital. I suffered series of inconveniencies when I use to get seizure but now that my seizure is almost controlled, I thank God the stigma and discrimination is reduced.