National Epilepsy Centre, Epilepsy Support Pakistan (IBE-Chapter) & Epilepsy Association of Pakistan (ILAE-Chapter) help to shine light on epilepsy
Karachi, February 8, 2021: International Epilepsy Day, to promote awareness of epilepsy around the world was celebrated here earlier today by National Epilepsy Centre (NEC) in collaboration with Epilepsy Support Pakistan (ESP) & Epilepsy Association of Pakistan (EAP).
The day began with a talk show on Samaa FM 107.4. This is a very popular morning show that is heard by children and people on way to school and work all over Pakistan. The RJ has a decent following from people of other countries too. The feedback of the listeners has been very encouraging.
Large sized banners with our awareness message were place on several pedestrian bridges  located on the main traffic artery of the city that connects the national highway right up to the  Karachi port and branching to reach other parts of the city. These posters were legible from a  distance of 700-800 metres. The target audience again being the office going people and  school children travelling on this road. Awareness banners were also placed at strategic  places where the flow of traffic is maximum on a work day.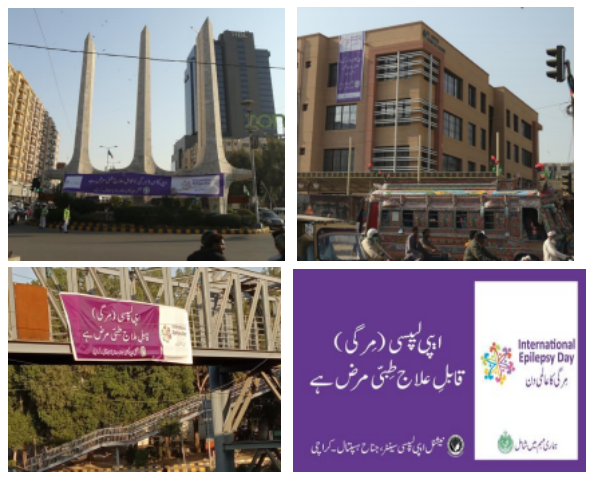 At National Epilepsy Centre, lucky draw activity for children with epilepsy was held. The  winner got a large stuffed teddy bear.
A press conference was held after dusk in the open and fresh air at a popular public space  Port Grand located near the Karachi port. The place was beautifully lit up in purple – the  colour of epilepsy. The media personnel were briefed about epilepsy and the importance of  spreading awareness by the EAP President who also co-heads NEC. A short awareness  documentary and recorded messages of President ESP, Executive Director, Jinnah  Postgraduate Medical Centre, Karachi and President ILAE were also shown. The Govt. of  Sindh was represented by the Assistant Commissioner Karachi who also spoke on the  occasion.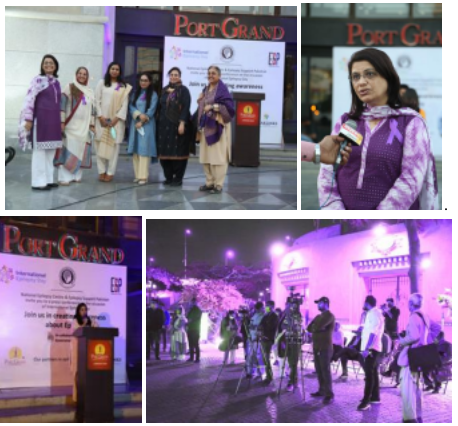 Epilepsy Awareness Documentary and slideshows was shown in loop on large SMD screens at two frequently visited public spaces.
The highlight of the Epilepsy Day Celebration was illumination of national monuments and  landmarks in purple; the most significant being the Mausoleum of Quaid-e-Azam Mohammad  Ali Jinnah, the Father of the Nation. Large awareness banners were placed at these site for  people to associate purple with epilepsy.
Visit: www.nationalepilepsycentre.org.pk
Facebook page: National Epilepsy Centre at JPMC, Karachi – Pakistan
Instagram: nationalepilepsycentrekhi