CAMEROON
Epilepsy Awareness, Aid & Research Fdn.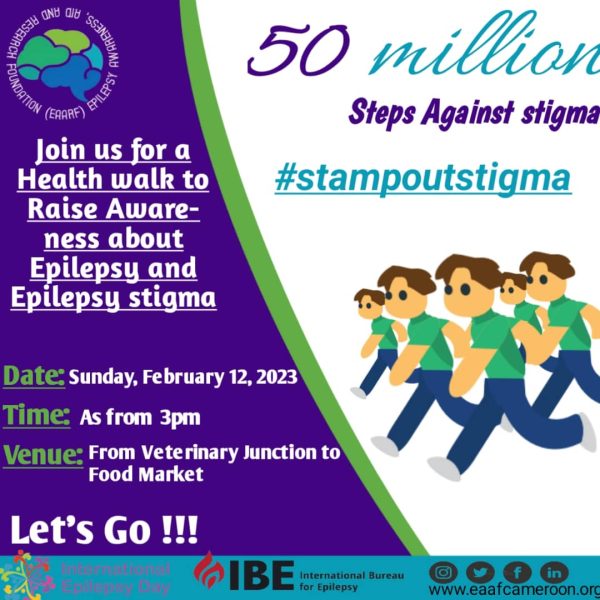 ITALY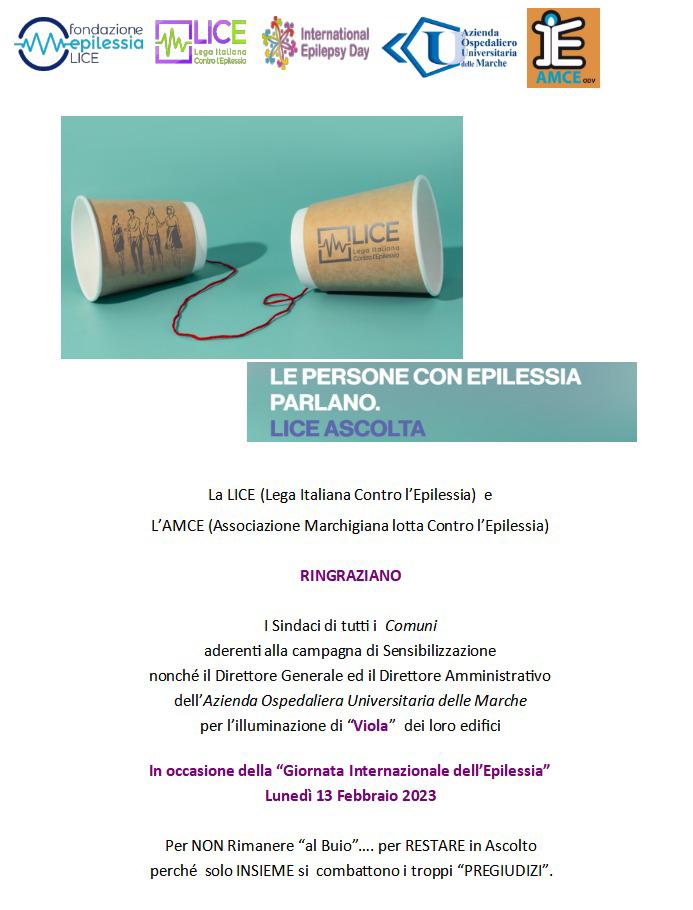 The Municipality of
Monte Rinaldo
joins the campaign to raise awareness of Epilessia by lighting the Clock Tower in purple.
Il Comune di
Monte Rinaldo
aderisce alla campagna di sensibilizzazione sull'Epilessia illuminando di viola la Torre dell'Orologio.
Associazione Italiana Epilessia
TURKEY
FRANCE
ÉPI Bretagne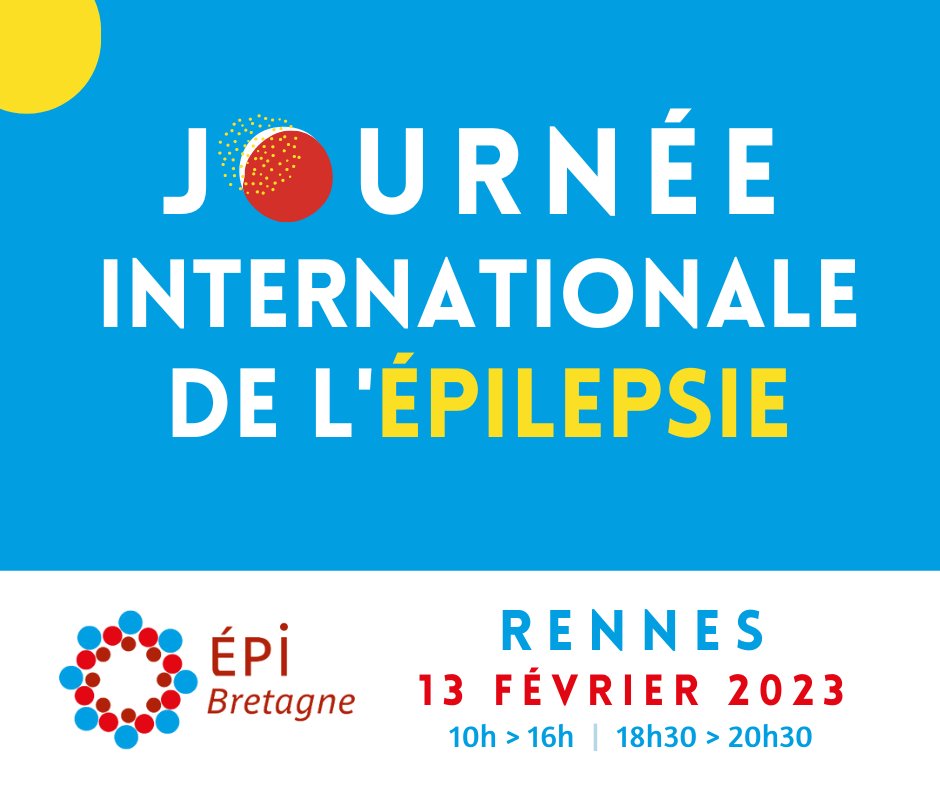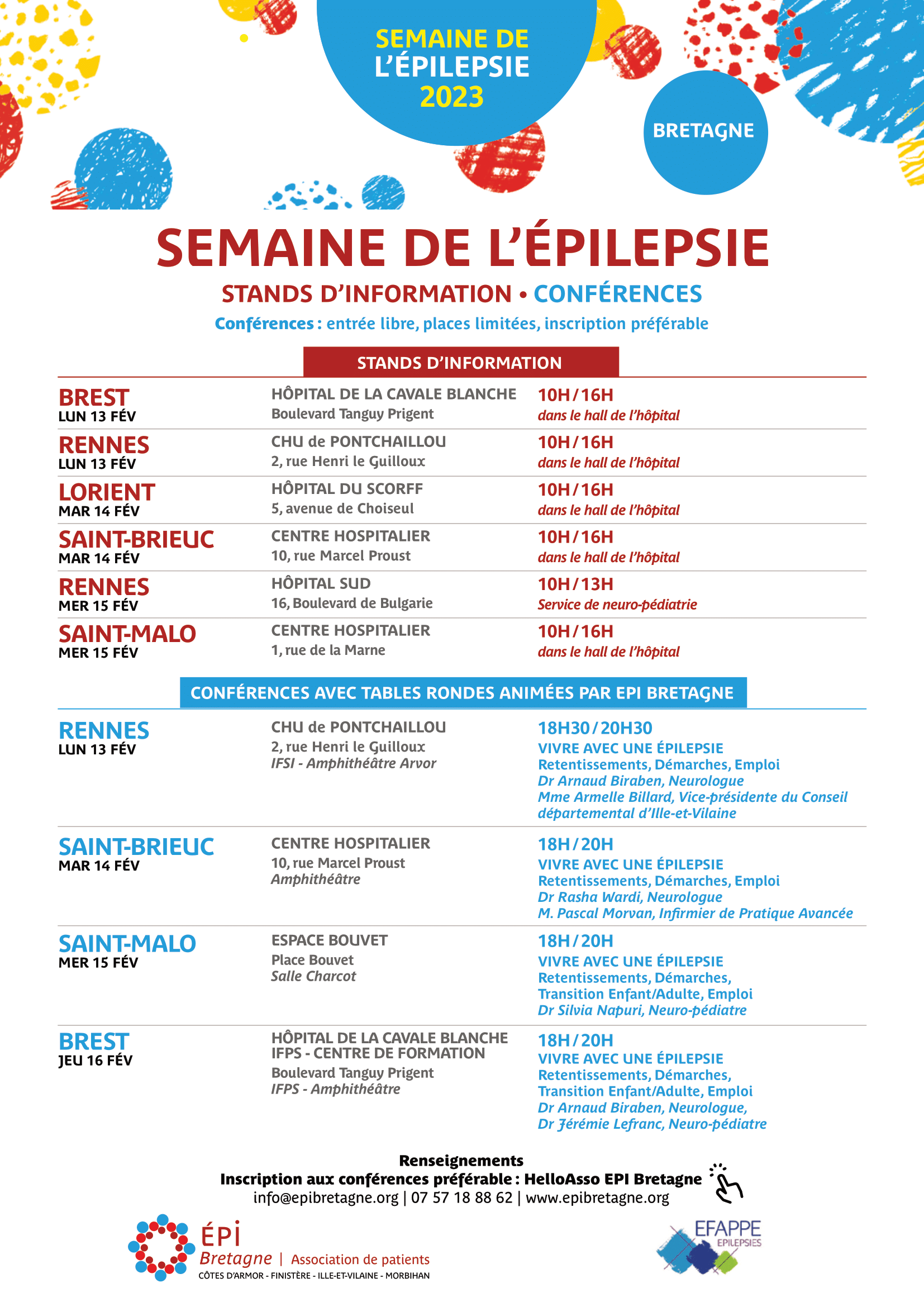 Centre de référence épilepsies rares de l'hôpital Robert-Debré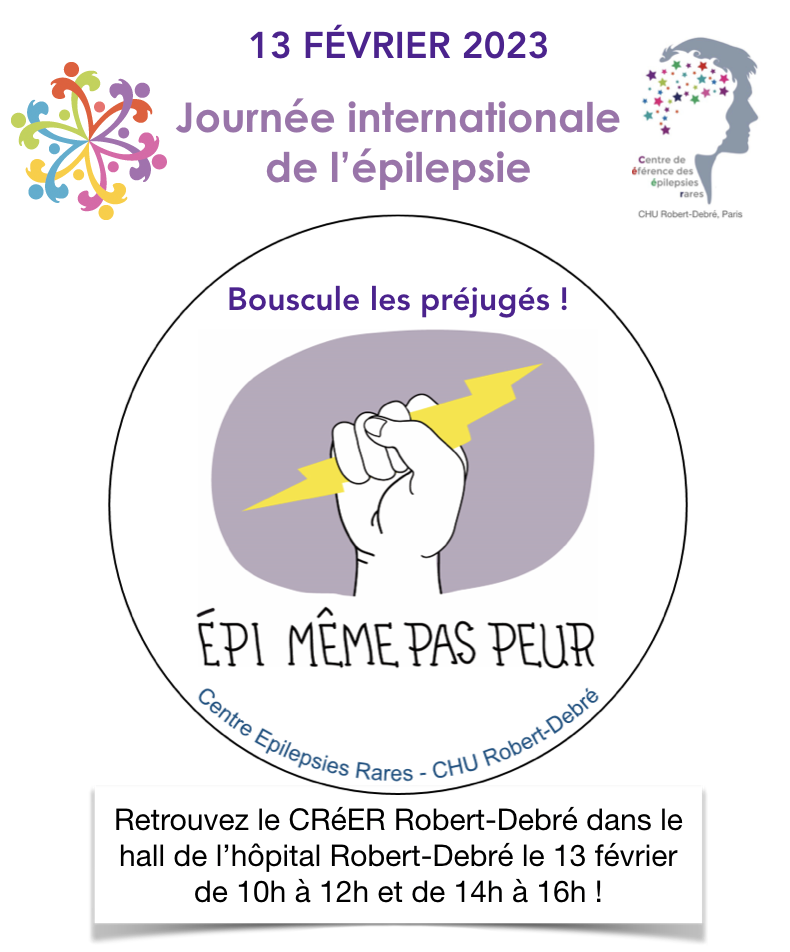 For the International Epilepsy Day, the Reference Center for Rare Epilepsies of Robert-Debré Hospital is setting up a stand in Robert-Debré Hospital on February 13th to raise awareness about epilepsy and to end stigmatization of people living with epilepsy. We will give information about epilepsy and the activities of our Reference Center. People will be able to participate in a small survey that will test their knowledge about epilepsy, with goodies for people answering the survey.
Do not hesitate to come and visit us on Monday 13 February from 10am to 12pm, and from 2pm to 4pm in the hall of the Robert-Debré hospital, in Paris.
A l'occasion de la Journée internationale de l'épilepsie, le Centre de référence épilepsies rares de l'hôpital Robert-Debré organise un stand au sein de l'hôpital Robert-Debré le 13 février prochain afin de sensibiliser le grand public à l'épilepsie et de bousculer les préjugés. Nous donnerons des informations sur l'épilepsie et les activités de notre Centre de référence et vous pourrez participer à un quiz qui testera vos connaissances sur cette maladie avec des petits cadeaux à la clé. N'hésitez pas à passer nous voir lundi 13 février de 10h à 12h et de 14h à 16h dans le hall de l'hôpital Robert-Debré, à Paris.
La Ligue Française Contre L'épilepsie (LFCE)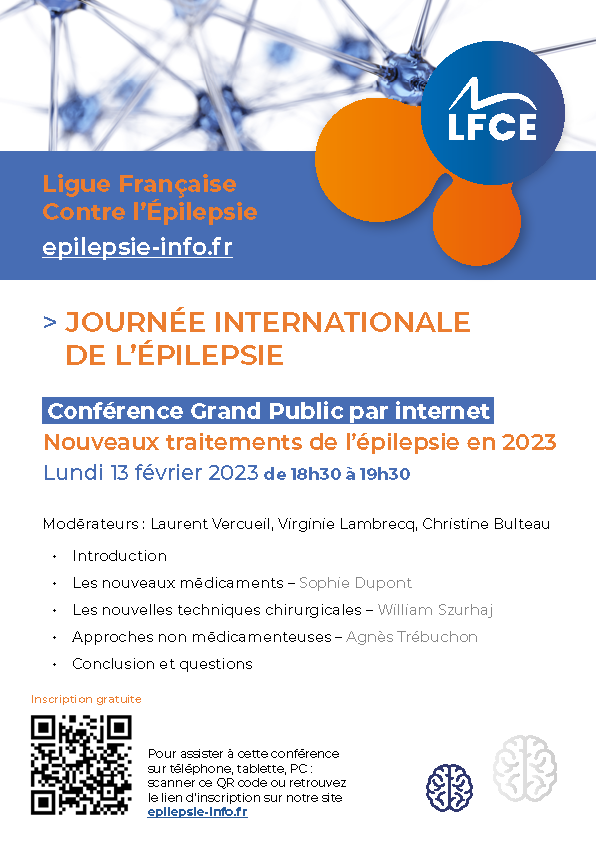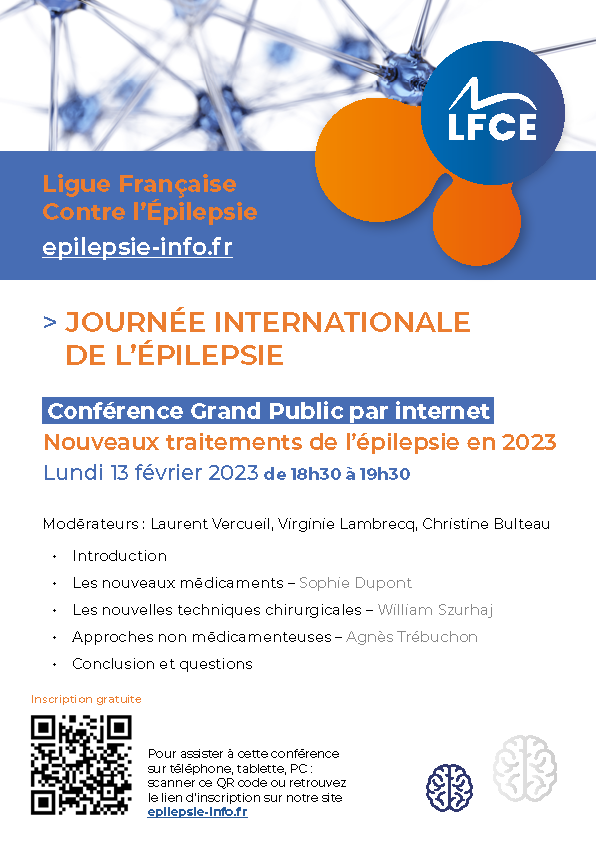 The LFCE will Organize a webinar for the general public on February 13 at 6:30 p.m. to show patients and their families that things are changing around epilepsy. New treatments, sometimes more targeted, are being marketed, new safer and less 'aggressive' surgical techniques are being developed, and tools based on artificial intelligence are helping patients and medical teams. This webinar will be an opportunity to discuss these topics, sources of hope for patients
La LFCE organisera un webinaire destiné au grand public le 13 février à 18h30 pour montrer aux patients et à leur entourage que les choses bougent autour de l'épilepsie. De nouveaux traitements, parfois plus ciblés sont commercialisés, de nouvelles techniques chirurgicales plus sûres et moins 'agressives' se développent, des outils basés sur l'intelligence artificielle viennent aider patients et équipes médicales. Ce webinaire sera l'occasion d'aborder ces sujets, sources d'espoir pour les patients.
SOUTH AFRICA
Epilepsy South Africa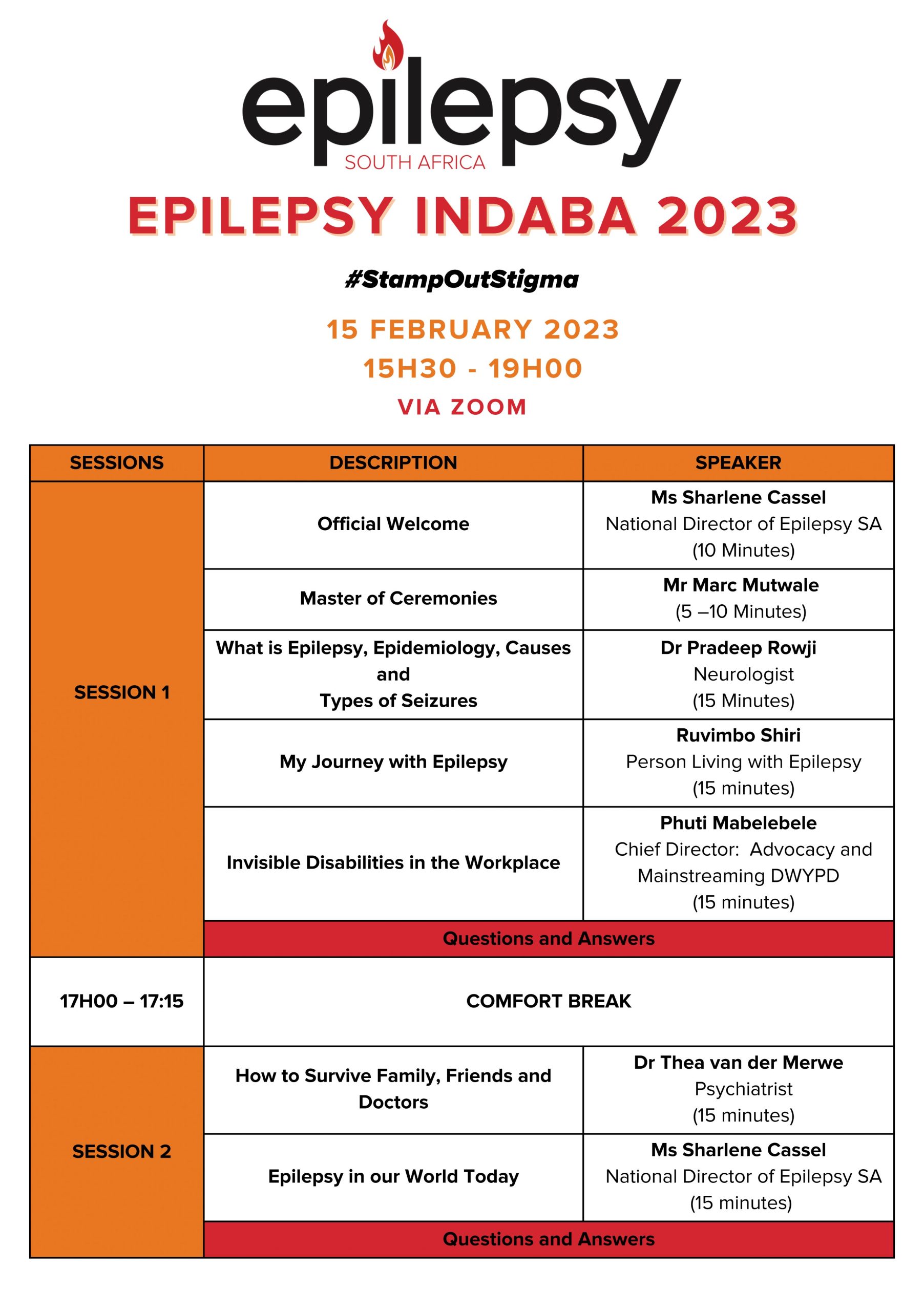 KENYA
Foundation for People with Epilepsy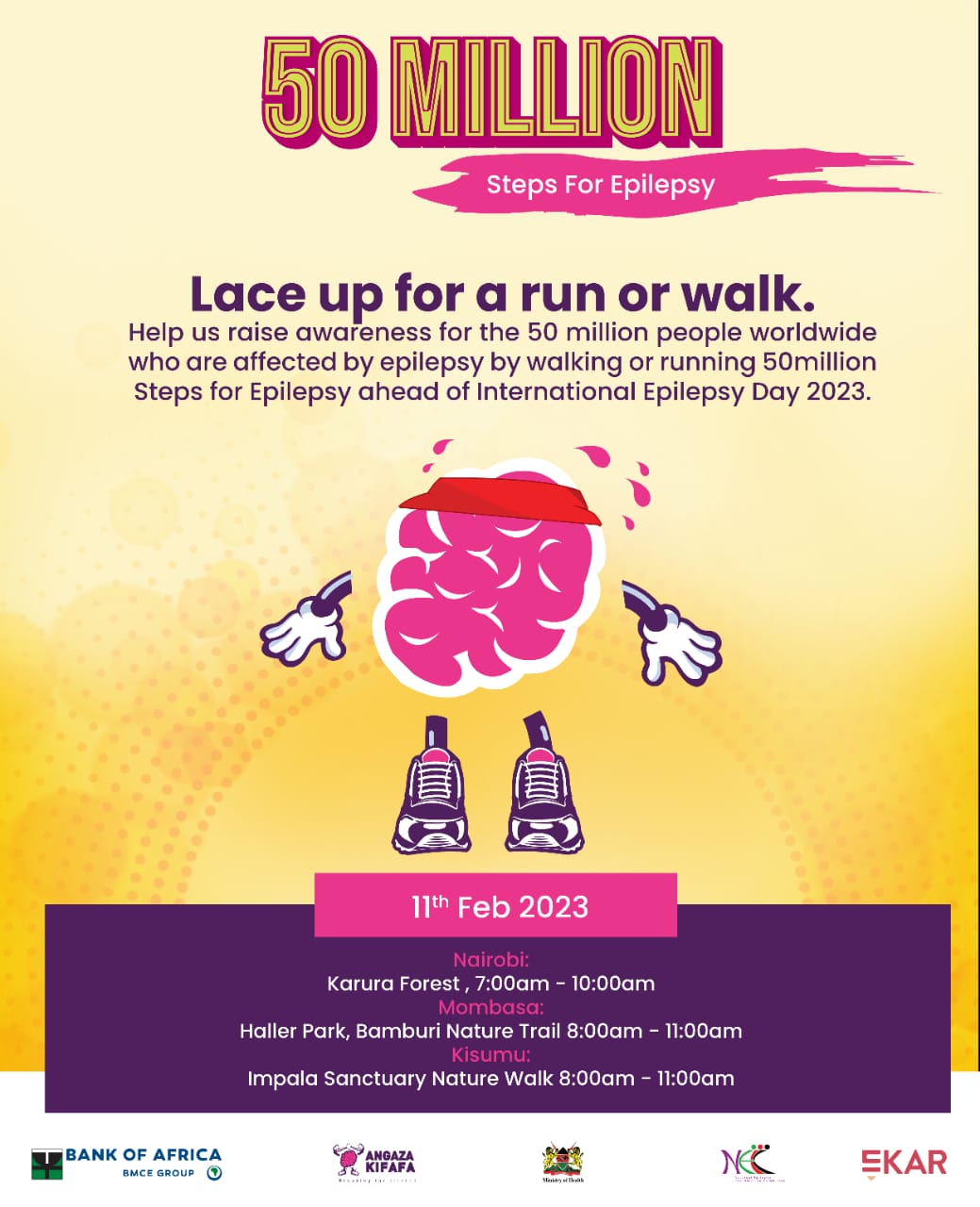 Youth on the Move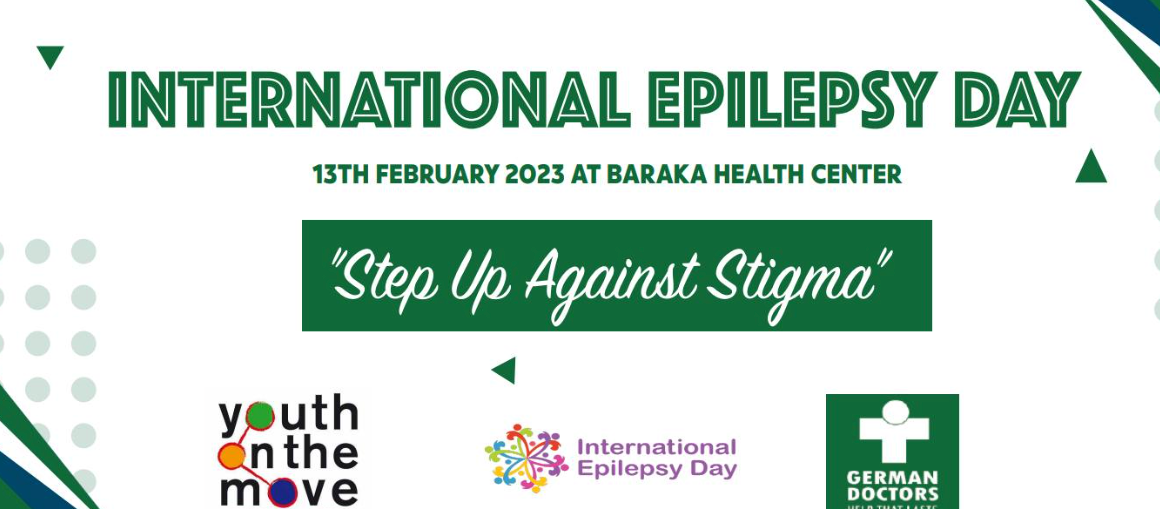 HONDURAS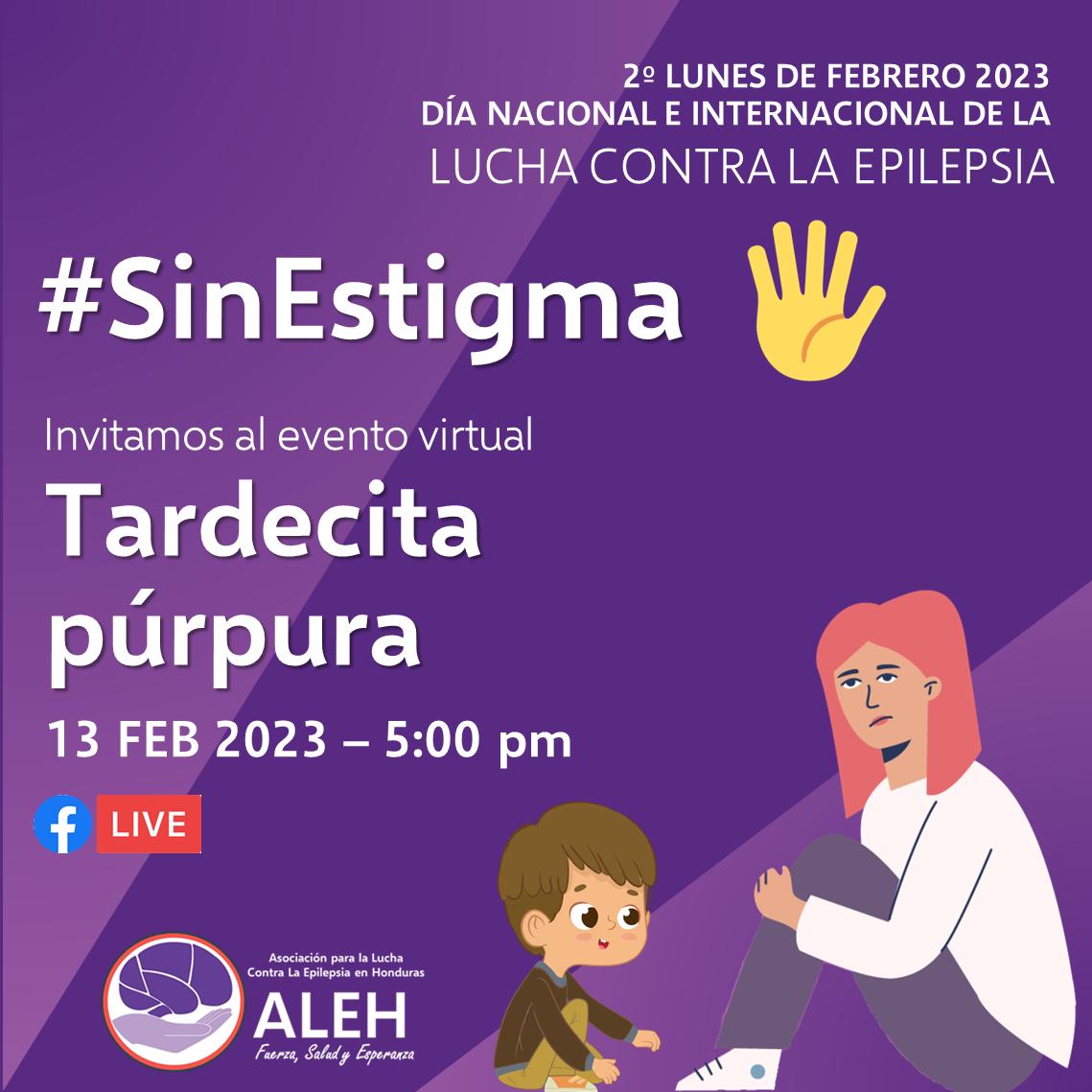 All cordially invited to our TARDECITA PÚPURA If you want to participate complete the form.
REGISTER HERE: https://forms.gle/qv1253X4BPdLEch48
Todos cordialmente invitados a nuestra TARDECITA PÚPURA Si quieres participar rellena el formulario. https://forms.gle/qv1253X4BPdLEch48
SI JO PUC, TU TAMBE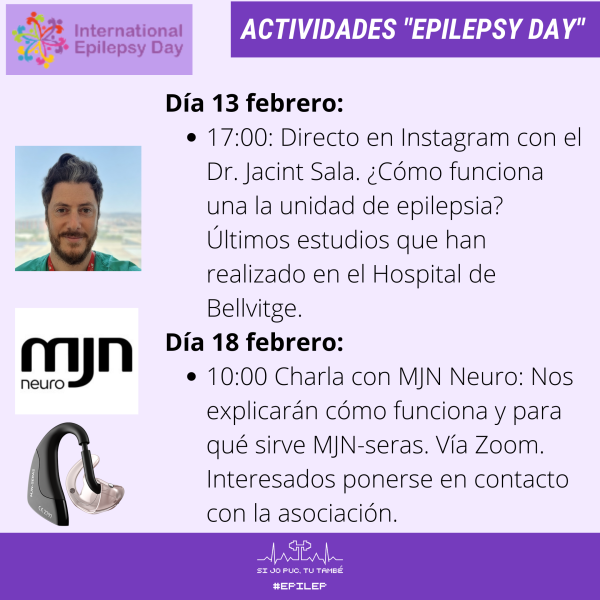 EPILEPSIA SIN FRONTERAS
On the occasion of International Epilepsy Day we will hold this meeting with professionals from the social and medical areas to talk about the stigmas surrounding epilepsy. Thus, we will share valuable information and help reveal the stigmas of this medical condition in different aspects.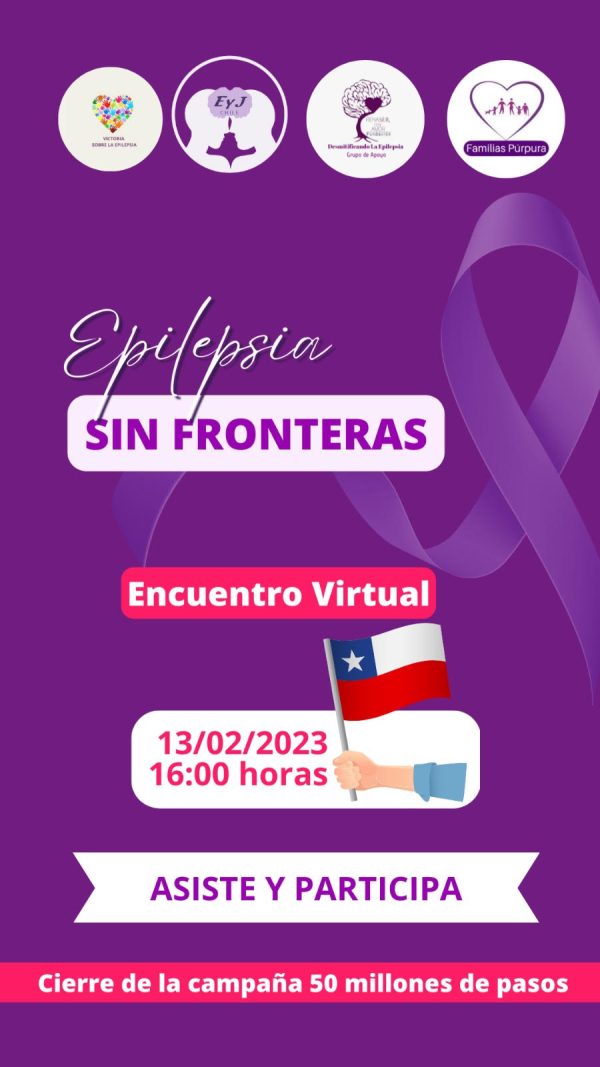 Con motivo del Día Internacional de la Epilepsia realizaremos esta reunión con profesionales de las áreas social y médica para conversar sobre los estigmas que rodean la epilepsia. Así, compartiremos información de valor y ayudará a desvelar los estigmas de esta condición médica en diferentes aspectos.
Registro: EPILEPSIA SIN FRONTERAS II 2023
CZECH REPUBLIC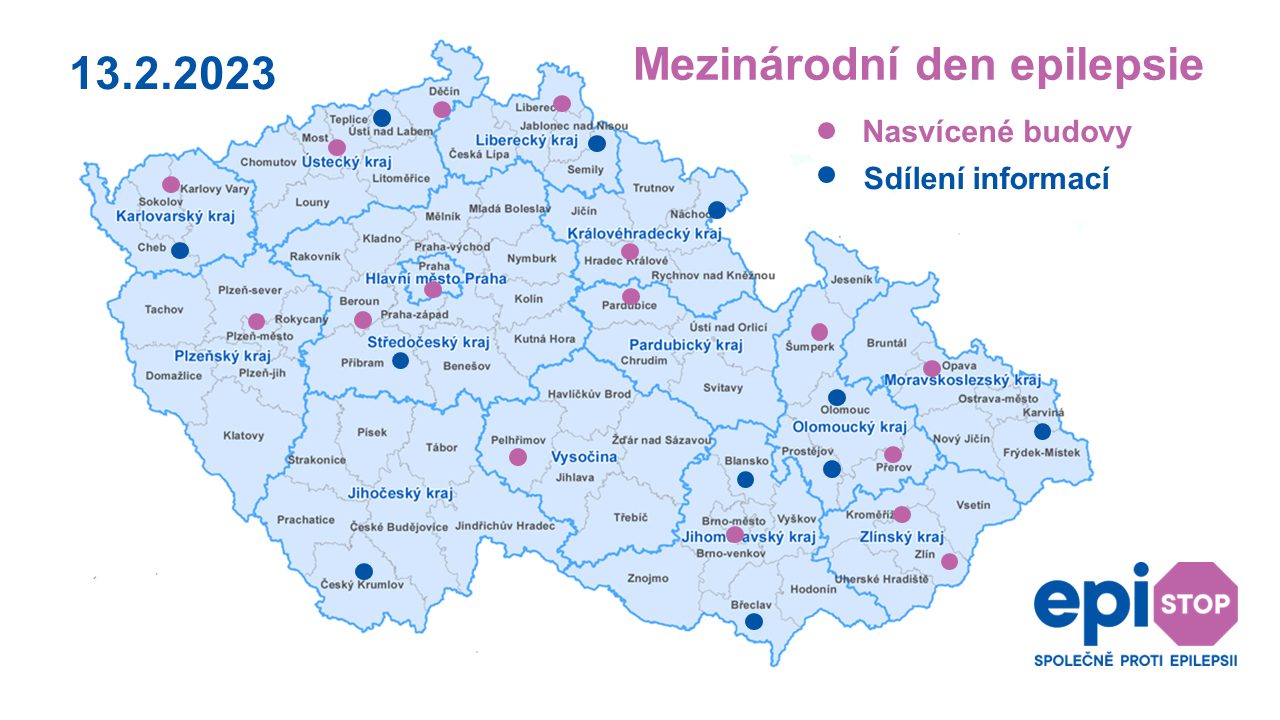 EpiStop is holding an event this year, during which historical buildings and monuments throughout the Czech Republic will be illuminated. 16 cities from 13 regions participated in the event and 20 places will be illuminated
UGANDA
Purple Bench Intiative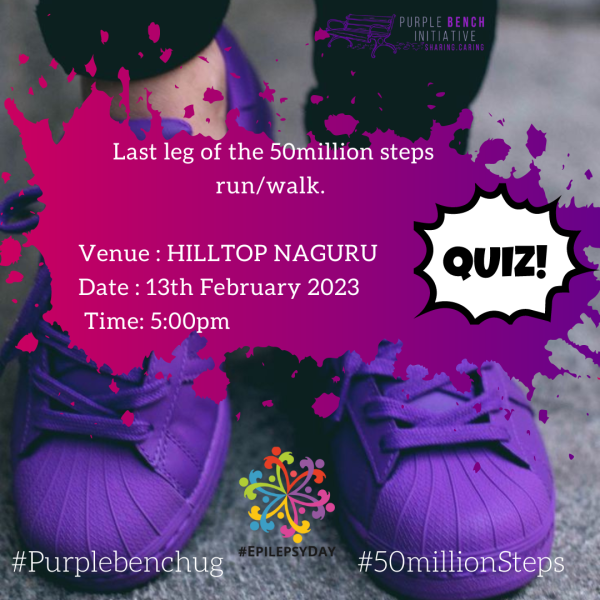 INDIA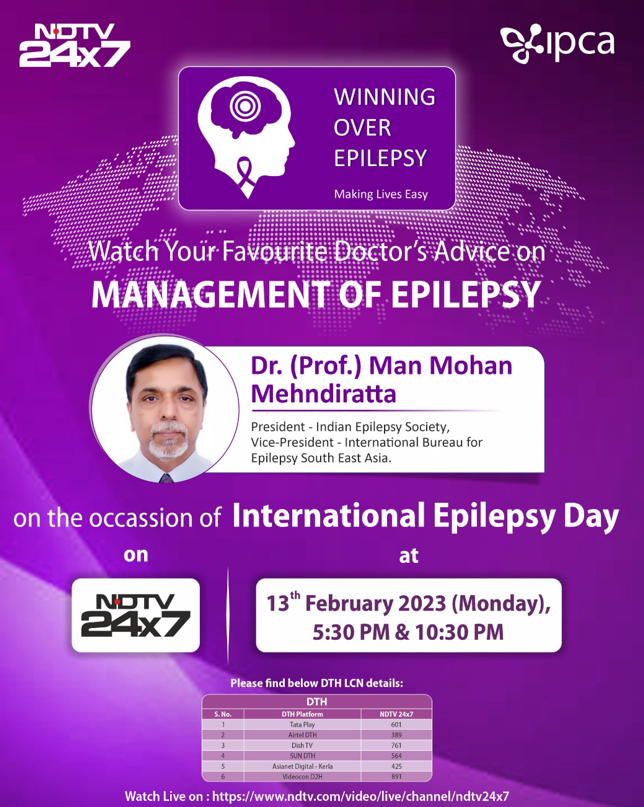 EPILEPSY ALLIANCE AMERICA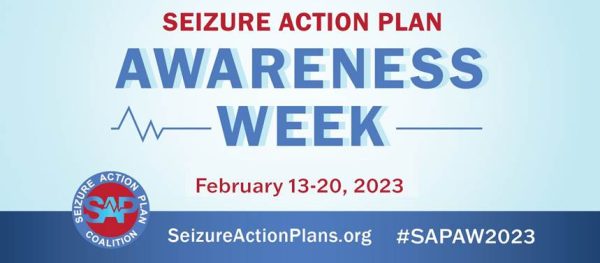 The Seizure Action Plan Coalition (managed by Epilepsy Alliance America) will kick off Seizure Action Plan Awareness Week on February 13 – International Epilepsy Day. More information is available at: www.SeizureActionPlans.org
BANGLADESH
09/02/2023. On the occasion of International Epilepsy Day the Dept. of Neurology and Neurosurgery, Mymensingh Medical College, Bangladesh will arrange a scientific seminar on " Epilepsy care: A pragmatic approach."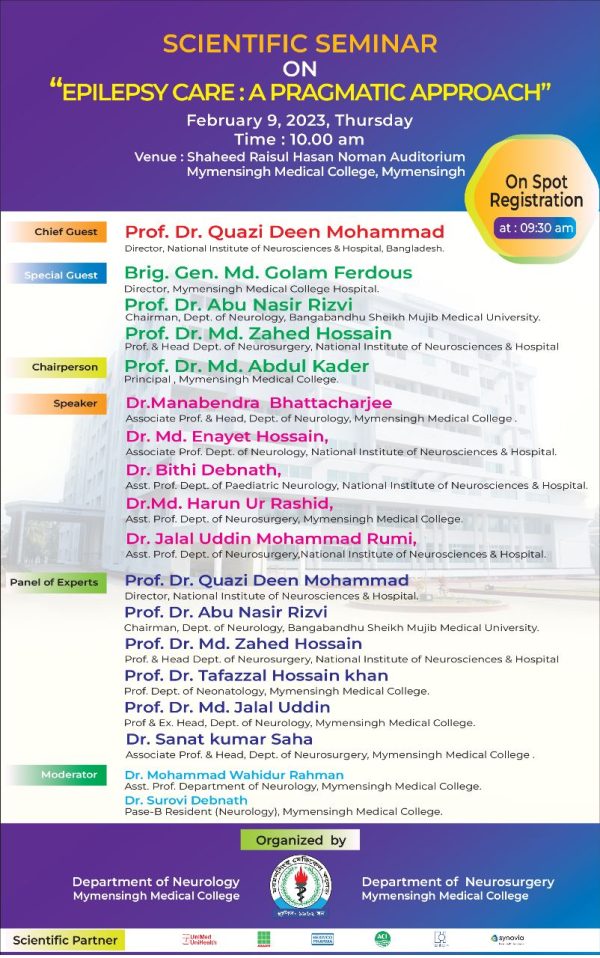 13/02/23. Dept. of Neurology will also arrange a rally at the College premises and a week-long epilepsy awareness campaign at Neuro OPD.